In short..
Shoestring, Koning Aap, YourWay2GO and Entdeck die Welt compensate CO2 emissions from all trips in their entirety (I.e. both the international flights and the associated land package) as standard.
This compensation is offered through the purchase of CO2-credits from FairClimateFund for the Basa Magogo project in South Africa.
How do we offset the CO2 emissions? 
The emission of harmful gases (including CO2) is a threat to our planet and all the beautiful places we visit. We want to do something positive in return. We do this by compensating the CO2 emissions that our travels produce! Together with FairClimateFund we have worked out the average CO2 emissions released during our tours. For 2017 this will add up to some 35.000 tons of CO2 tobe compensated. With this amount we can support 26.000 households!
What is FairClimateFund?

FairClimateFund is a social venture founded by ICCO in 2009. Via the FairClimateFund ICCO provides poor people in developing countries with access to cleaner energy. Since FairClimateFund has its own projects, there are no superfluous links between your contribution and the local people who are employed and/or involved in the project. So the money goes where it belongs! 2.9 billion people worldwide still cook on open fire or bad cooking equipment. This has an enormous impact on the climate, deforestation, health and the social development of women and children. 4 Million people die each year because of the effects of these health issues.
FairClimateFund therefore finances initiatives that give households in developing countries access to 'cleaner cooking'. These are projects for the distribution of efficient cooking stoves, biogas installations and traininghouseholds on more efficient cooking and fire-burning methods. The CO2 reduction through using less wood and carbon is certified according to international standards and converted to Gold Standard CO2 certificates. FairClimateFund works according to Fairtrade principles and sells CO2 certificates from the source. Local partners are trained so that projects can be led by local people. The ambition by 2020 is to give 2 million people access to a cleaner and more efficient way of cooking and to stimulate local development.
For more information on FairClimateFund visit: www.fairclimatefund.nl and take a look at the animation underneath.
What is the project about?
Basa Magogo Technique in South Africa
In the Townships around Johannesburg many households cook with the use of carbon-burning fires which releases harmful smoke, which causes an estimated 26% of all hospitalizations that are related to respiratory causes. The Basa Magogo technique is another way of lighting these fires . By using this technique 50% less coal is used and up to 90% less smoke is emitted. As a result, the emission of CO2 and the negative health effects are drastically reduced for more than 100,000 households.
 

The Basa Magogo project is the first registered Gold Standard project of its kind in the world. Through training, we can change the way of burning coal. It is a locally integrated programme where residents of the Townships learn the Basa Magogo way to light the coal. The result is a more efficient and cleaner burning process.
The Goal:
1. Reduction of 50% of the coal used domestically for cooking and heating and thereby a saving of approx. 40 Euros per household, per year.
2. Improving the health of women and children by a 90% reduction of smoke emitted during cooking.
3. Time saving of approx. 1-2 hours a day through faster lighting and cooking methods. 
The households save an average of 377 kg coal per year. This amounts to 1.3 tons of CO₂ less, per household, per year!
For more information on Baso Magogo: Take a look at the video below and the FairClimateFund website.
Discover personal stories behind this project: 


Rosina Thabethe
Rosina Thabethe lives with her husband and one of her daughters in Sakhile. The unpaved road shows a row of identical gray concrete houses that were built and subsidized by the government during Apartheid. The Thabethe family lives in one of these houses.
Rosina and her husband arrived here years ago. Her daughter, son in law, and grandchildren live with Rosina. There is no doubt that Rosina controls the household like a real mama. "What my husband and I first bought when we came to live here was this oven," says Rosina, while she points to the huge Magic oven that absorbs almost one third of the kitchen. Her oven uses both coal and wood.
Three years ago, Rosina switched to the Basa Magogo technique. A demonstration on how to use this new technique took place at Rosina's home. Together with three neighbors Rosina saw how a slight but profound change in the sequence of using coal, wood and paper would make an incredible difference to the efficiency of the oven. By using the new method, the oven remains warm much longer and produces significantly less smoke in the small kitchen. Rosina is most enthusiastic about the smoke-free home and she finds it absolutely beautiful that Basa Magogo reduces the smoke to a minimum. Rosina is now not only saving a considerable amount of money by economizing her use of coals but at the same time cooking is a lot more pleasant now that it does not affect her health so much. An extra benefit from the oven is that it also functions as a heater in the cold winter months. By using Basa Magogo the oven produces a lot more heat!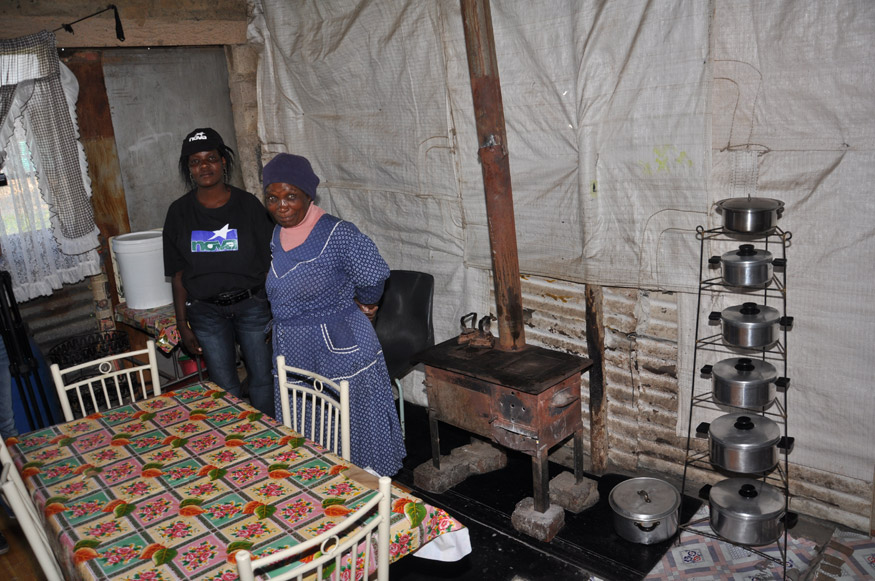 Josephine Mathobela
Josephine Mathobela lives in Kwazamokuhle for twenty years. Since the death of her husband she rents her current home from a friend. She lives here with the four children of her deceased daughter. She takes care of her grandchildren by herself. The youngest one is 13 and the oldest one is 18 years old.
The Mathobela family is far from wealthy. The small pension she receives is by far not enough to make ends meet.Twice a month she washes the clothes of a miner who lives nearby. It's hard work to get his dirty overalls clean but every little bit of money helps.
Since 2009 money comes from a different angle. In that year she was introduced to a new cooking method, the Basa Magogo method. Now Josephine doesn't need to use so much coal to make a big fire. The fire also burns longer. By using the Basa Magogo method she saves about three euro a month, which she uses to buy some extra food.
Josephine is very pleased with the new cooking method since she doesn't have to clean the walls so frequently anymore. Thanks to the smoke reduction they stay a lot cleaner and the family has a lot less problems with their lungs.