What does this project involve?
The Ibu Harnik orphanage provides care for about 42 children while their parents are working away, often on the land. We support this project in collaboration with our local agent.
We also support "Tolong Flores", a foundation set up by a group of our travellers and dedicated to the improvement of teaching in the schools of Flores. We were the first to sponsor this foundation, doing so right from the start!
Where do the donations go to?
Ibu Harnik
Our contribution is used for the purchase of a variety of items including school uniforms, school bags and shoes. Furthermore, our groups visit the plantation of Ibu Harnik where you will learn about the herbs (an important ingredient in Indonesian cooking and traditional medicines). Then you can watch (and you can help yourself) the preparation of the lunch. An interesting and informative morning where you will simultaneously support the Ibu Harnik school project.
In Ibu Harnik from 2015 to 2019, our contribution was mainly spent on the purchase of shoes and new clothes.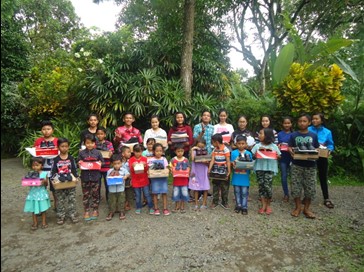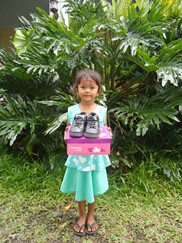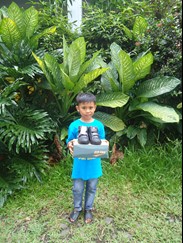 Tolong Flores
The Tolong Flores Foundation supports two primary schools in the area of Labuan Bajo on Flores. At both schools, through the financial support of Koning Aap, Shoestring and YourWay2GO, teachers are now giving English lessons. In addition, educational materials have been purchased that will enable a better education in the English language. Mastering the English language offers greater opportunities for following secondary education and ultimately vocational training, for example in tourism. The Tolong Flores Foundation has also entered into a partnership with the Educhild Foundation for this purpose. They support an MBO training programme for tourism in Labuan Bajo.
From 2016, our contribution will be used specifically for the annual salary of an English teacher, for one of the schools supported by the foundation. He teaches three English lessons a week after school as part of Nanga Nae's teaching team. 
For more information: http://www.tolongflores.com/index.html